5 Name Brand End Tables You Can Easily Make for Less
Do you ever find the perfect piece of furniture only to look at the price tag and gasp?!
It happens to me all the time.
Until I realized that we could make our own furniture and save money while doing so.
My husband and I got into DIY to fix up our home. We started with small projects and worked our way up to larger ones. Somewhere in between, we realized that we totally could build our furniture.
Today, I'm sharing four more amazing end and side tables that you can totally build for much less than the cost in the store. 
Prepare to be inspired, my friends!
Round Stool End Table
Here is the DIY round stool we made, inspired by West Elm.
It can serve as a stool, a plant stand, or a small end table.
We made it for just $15!
Storage Basket Side Table
Is there anything better than furniture that also serves as chic storage?
I am loving this storage basket end table from Casey at House by the Bay Design.
Hop on over to her post to see exactly how to make this simple table.
Chic Side Table
How gorgeous is this Serena & Lily inspired table from T. Moore Home?!
I love the color, the build, and how she prettily styled it.
The best part? She saved hundreds on building it herself! Check out all the details on her post 🙂
Modern End Table
For less than $30, Toni from Girl, Just DIY made this Crate and Barrel inspired end table.
It's so pretty, and she tells you exactly how to make it yourself.
You'll save a pretty penny and get a gorgeous new piece.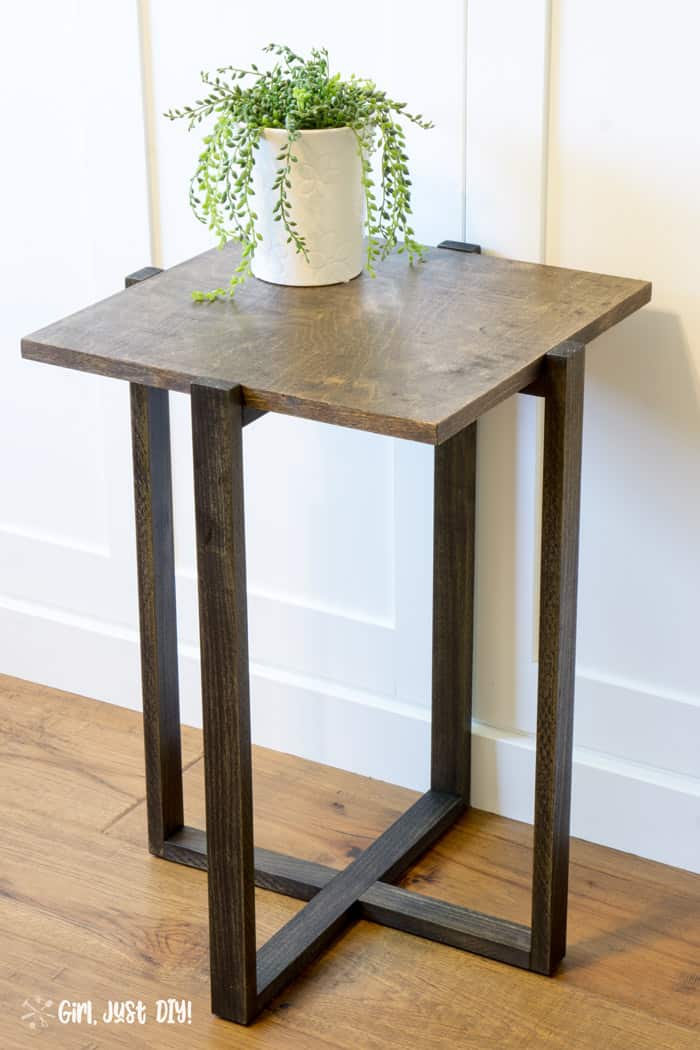 Rope Spool End Table
This rustic spool end table is absolutely stunning.
Rebecca from Zucchini Sisters had plans to make this Ballard Designs inspired spool table from a bucket – but lucked out in finding a free spool.
Check out all the details on her post.
The brand name stores offer beautiful furniture but lots of times it's not very affordable.
If you're in need of a new end, side, or console table for your home, definitely think about making it yourself. You'll save tons of money and have a beautiful custom piece to take pride in.
If you're looking for inspiration, look at the furniture your favorite stores offer. When you find a piece that you absolutely love, start thinking about how you can make it yourself.
You'll be so pleased to have spent a fraction of the cost, you can easily customize it (with your own color, dimensions, natural finishes, etc), and you'll have so much pride in the fact that you made it yourself.